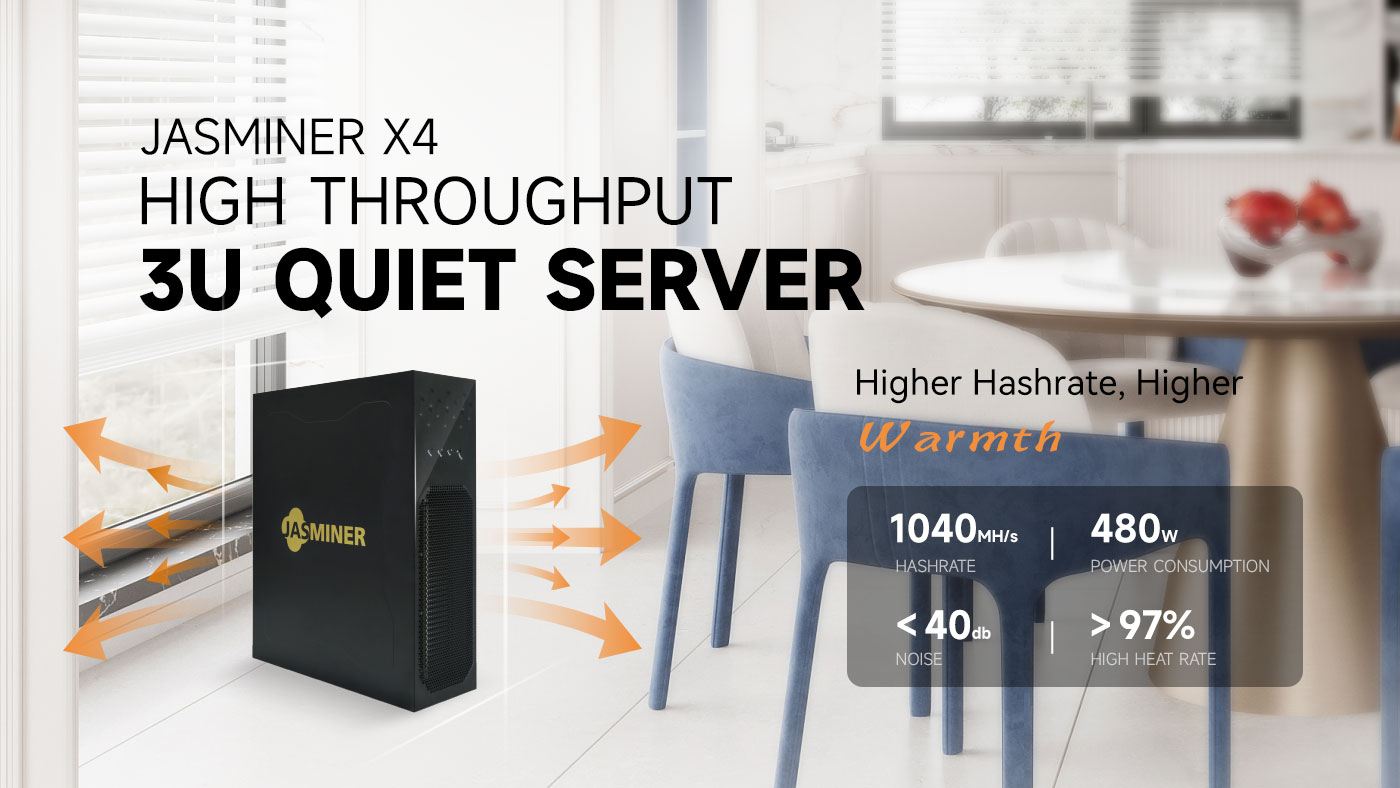 In August, JASMINER, the world's leading manufacturer of high throughput chip miners, released a new version of JASMINER X4-Q, which is improved and upgraded from the first generation of Quiet servers, with new adjustments mainly in appearance and noise reduction, while adding "3U" to the name to differentiate it, with cooler shape and lower noise. According to professional miners, the new version of JASMINER X4-Q will be the most powerful ETC miner on the emerging market.
At present, JASMINER X4-Q is the king of equipment for mining ETC in the global market. It retains the parameter settings of the first generation core and still adopts 16 storage and calculation integrated high throughput chip technology design, allowing users to obtain a super high hash rate of 1040MH/s±10% with only 480w±10% power consumption. This most powerful ETC miner provides the best solution for users to achieve energy saving and reduce power costs.
The new JASMINER X4-Q also continues to use the innovative 3U form, which is more expandable, and has a new and improved dual-fan cooling noise reduction system that reduces the noise value to less than 40dB, which is comparable to a home computer mainframe and can be placed in a family room or IDC room without the slightest perception of noisy sound. The JASMINER X4-Q solves the problem of huge noise and power consumption from mining, and can bring miners a more extreme quiet enjoyment.
JASMINER has been focusing on energy efficient mining and actively building up the hash rate ecology of ETC. the JASMINER X4 chip is the result of JASMINER R&D team's years of further innovation and optimization of the core chip architecture. With the upgraded high throughput chip architecture and more flexible and expandable structure design, JASMINER X4-Q can better meet the mining needs of ETC and provide ETC miners with higher hash rate, lower power consumption and lower noise product experience.
The latest news shows that the German lower house passed a draft law to cancel the climate target involving "carbon neutral energy sector by 2035", the UK and France also plan to postpone the closure and restart of coal-fired power plants, while more countries such as Denmark also announced to abandon the 2035 carbon neutral target ...... Western countries collectively abandon carbon neutrality, which indicates that the worldwide electricity supply will further slow down, in order to continue mining miners will have to run around looking for cheap electricity energy. JASMINER's new X4-Q has to be considered a great savior for ETC miners, with an extremely high energy efficiency ratio that consumes almost no extra electricity, saving power and worry.
The new JASMINER X4-Q has been unveiled globally and is now available for pre-order. With the unprecedented "quiet + efficient + energy saving" feature in JASMINER's current X4 product line, the mining capacity has been significantly improved, making it the most energy efficient ETC miner on the market today.
Disclaimer: This article is reproduced from other media. The purpose of reprinting is to convey more information. It does not mean that this website agrees with its views and is responsible for its authenticity, and does not bear any legal responsibility. All resources on this site are collected on the Internet. The purpose of sharing is for everyone's learning and reference only. If there is copyright or intellectual property infringement, please leave us a message.