Ninghai, China—May 10, 2022—On May 10, Risen Energy celebrated a significant milestone in Changzhou City, Jiangsu Province.
Lin Haifeng, Chairman of Risen Energy, Vice President Zeng Jianping, General Manager of HJT Business Unit, Dr. Po-Chuan Yang, and other dignitaries gathered to celebrate the successful mass production of Risen Energy's first 120μm HJT solar cell made from G12 half wafer.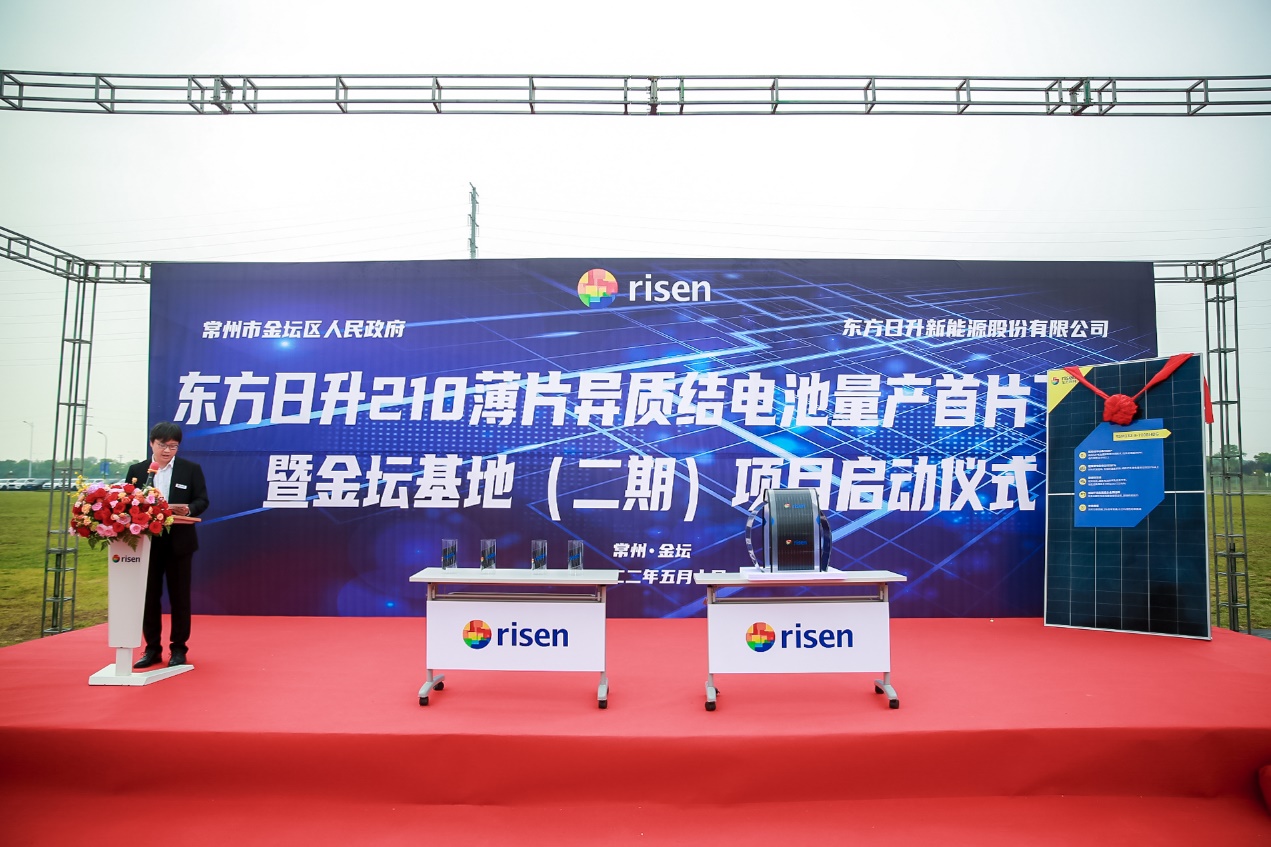 Risen Energy's HJT pilot line has been upgraded in the last three months to produce the G12 120μm HJT solar cell for the resultant HJT module 'Hyper-ion'. This cell adopts industry-leading technologies, including the use of G12 120μm half wafer with four chamfer, μc-Sidoping layer and low Ag content paste. The cell efficiency exceeds 25.5% in the mass production, the power output of the module with this cell is up to 700Wp+, and module efficiency can reach 22.53%.
Due to the excellent performance of the power generation, Hyper-ion can decrease 10% LCOE compared to PERC modules, which will bring customers lower cost of electricity and higher revenue. Hyper-ion has passed several extremely safety test such as 5X IEC test and so on. The carbon footprint value (CFP) of Hyper-ion is about 400kg eq CO2/kW as verified by a 3rd party organization and this will make outstanding contributions to realizing "carbon neutrality" of the world.
Based on this international trend and the best features of Hyper-ion, it is believed that Hyper-ion can give our customers the strong support and help them to achieve the target of revenue and carbon neutrality. In order to meet the demand, Risen Energy is building more factories to expand the capacity of HJT cells and modules, paving the way for Hyper-ion's bright future.
About Risen Energy
Risen Energy is a leading, global, Tier1, "AAA" credit rated manufacturer of high-performance solar photovoltaic products and provider of total business solutions for power generation. The Company, founded in 1986 and publicly listed in 2010, compels value generation for its global customers. Techno-commercial innovation, underpinned by consummate quality and support, encircle Risen total Solar PV business solutions which are among the most powerful and cost effective in the industry. With local market presence, and strong financial bankability status, we are committed, and able, to building strategic, mutually beneficial collaborations with our partners, as together we capitalize on the rising value of green energy.
For more information, please contact:
Risen Energy Co., Ltd.
Info@risenenergy.com
Disclaimer: This article is reproduced from other media. The purpose of reprinting is to convey more information. It does not mean that this website agrees with its views and is responsible for its authenticity, and does not bear any legal responsibility. All resources on this site are collected on the Internet. The purpose of sharing is for everyone's learning and reference only. If there is copyright or intellectual property infringement, please leave us a message.