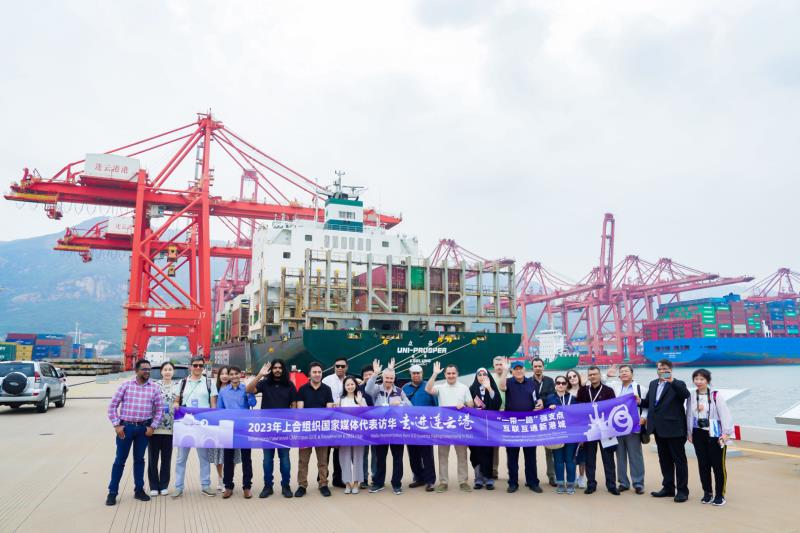 A delegation of journalists from Shanghai Cooperation Organization (SCO) countries recently visited Lianyungang, east China's Jiangsu province, during an SCO event, to get closer to the charm of the pivot city along the Belt and Road and record the stories of its prosperity.
The four-day event, titled "Media Representatives from SCO Countries Visiting Lianyungang in 2023," kicked off on May 24 and invited journalists from China, India, Kyrgyzstan, Pakistan, Russia, Tajikistan and Uzbekistan to nine sites in Lianyungang, including the Lianyungang Petrochemical Industry Base, SCO (Lianyungang) International Logistics Park, China-Kazakhstan (Lianyungang) Logistics Cooperation Base, etc.
Pakistani anchor, columnist and analyst Suharwardy Muzamal said China has set a good example for other countries in development.
"Lianyungang just left a deep impression on me. There are so many containers and ships and I'm amazed by how busy the trade is here. This fully demonstrates to the world the strong momentum of China's economic development," he said.
Lianyungang sits on the junction of the coast of Jiangsu province and the Longhai railway, a major arterial east-west railway in China. Thanks to the unique geographical location, the city has gradually developed into a strong pivot along the Belt and Road.
In 2014, the China-Kazakhstan (Lianyungang) Logistics Cooperation Base was built in the city, which is believed to be the first physical facility constructed after the proposal of the Belt and Road Initiative (BRI). Ever since, Kazakhstan, the world's largest landlocked country, has gained an outlet to the Pacific.
Over the past nine years, Lianyungang has made ceaseless efforts to promote Asia-Africa-Europe connectivity as a port city, building a pattern of high-level opening up.
Themed "Promoting Closer Belt and Road Cooperation for Better Connectivity," the event was co-hosted by The Good-Neighborliness,Friendship and Cooperation Commission of the Shanghai Cooperation Organization and Lianyungang Municipal People's Government, and co-organized by Lianyungang Development and Reform Commission, Publicity Department of Lianyungang Municipal Committee of the CPC, Foreign Affairs Office of Lianyungang Municipal People's Government. Institute of Belt and Road Initiative,Tsinghua University provides support.Global Times Online was a media partner of the event.
Disclaimer: This article is reproduced from other media. The purpose of reprinting is to convey more information. It does not mean that this website agrees with its views and is responsible for its authenticity, and does not bear any legal responsibility. All resources on this site are collected on the Internet. The purpose of sharing is for everyone's learning and reference only. If there is copyright or intellectual property infringement, please leave us a message.