With the improvement in life quality and public health awareness, the sports industry has become one of the largest and fastest-growing industries, serving as a mainstay of the global economy. Currently, the global sports industry has a gross output of approximately $400 billion, with an annual growth rate of about 20%.
People now care not only about the duration of exercise but also the quality of exercise, leading to the emergence of sports nutrition supplementation. Over the past decade, beta-alanine has gained immense popularity as a sports nutrition supplement.
What is SMARSCLE™ Beta-alanine?
SMARSCLE™ Beta-alanine, also known as 3-aminopropionic acid, is a non-essential, non-proteinogenic amino acid produced endogenously in the liver. Beta-alanine has been identified as the rate-limiting precursor to carnosine synthesis and has been consistently shown to increase the carnosine content in human skeletal muscle. As a result, an increasing number of fitness enthusiasts prefer to take beta-alanine before a workout to help them build muscle and enhance exercise performance.
SMARSCLE™ Beta-alanine combines with histidine to form a dipeptide called carnosine. Carnosine acts as a buffer against the decline in pH during high-intensity exercise, delaying the onset of muscle fatigue. It also can scavenge reactive oxygen species (ROS) which may contribute to muscle fatigue. With direct supplementation of SMARSCLE™ Beta-alanine, workout efficiency will be greatly enhanced.
It also has the ability to scavenge reactive oxygen species.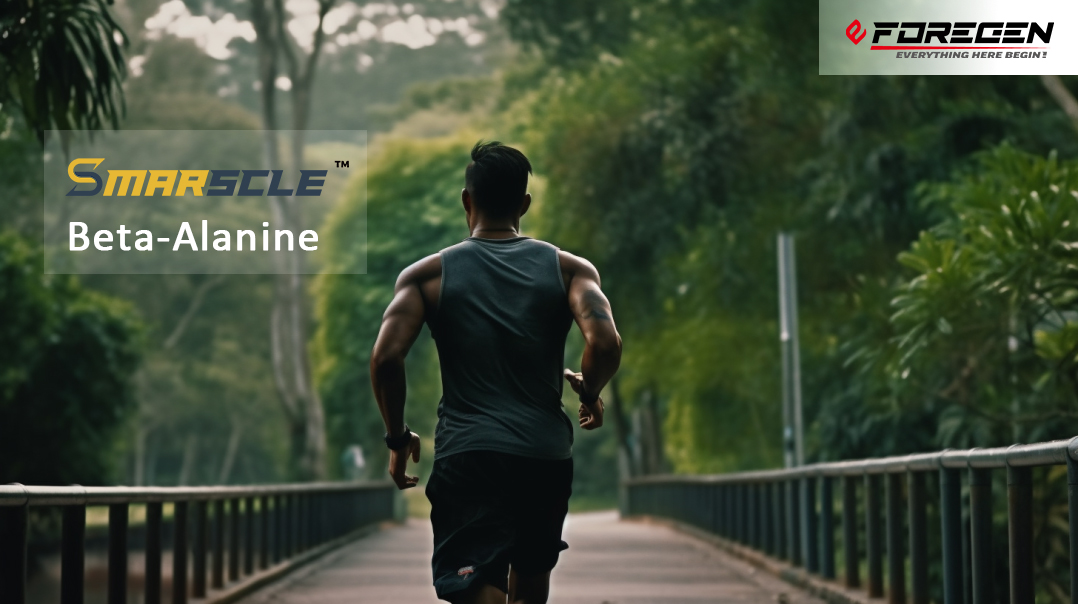 Benefits of SMARSCLE™ Beta-alanine:
Rate-limiting precursor to carnosine synthesis
Delay the onset of fatigue
Improve high-intensity exercise performance
Enhance exercise endurance
Attenuate exercise-induced pH reductions in muscle
Foregen Nutra, a leading biotech-based manufacturer committed to developing innovative and cutting-edge branded ingredients, has successfully produced SMARSCLE™ Beta-alanine with a high level of purity, catering to ever-growing demands of customers. As a testament to its excellence, Foregen Nutra has secured the largest global market share of beta-alanine, solidifying their position as an industry leader.

Foregen's Advantages of SMARSCLE™ Beta-alanine
Purity > 99%
Utilizes green biological manufacturing processes
Easy to flavor, with no bitter taste
Does not clump
About Foregen Nutra:
Foregen Nutra specializes in creating innovative and branded ingredients for sports nutrition, health and wellness, and cosmetics industries. By collaborating with a world-class team of scientists, Foregen has established a robust chain including research and development, manufacturing, logistics, and marketing.
In addition to SMARSCLE™ Beta-alanine, Foregen offers a diverse range of ingredients for the sports nutrition industry, including:
Incrediburn™, Beta-aminoisobutyric acid (L-BAIBA), which is Foregen's exclusive product with a unique technology process (patent ZL201810907170.6), is hailed as the "exercise factor"that can brown the white adipose tissue and amplify exercise performance.
Beta-hydroxybutyrate (BHB) is considered as the cleanest source of energy. Foregen is the first to promote its use in the ketogenic diet.
Sparkletein™, a clear vegan protein, is revolutionizing the industry as a game-changing solution. With its unique characteristics of clarity and a juicy taste, this protein option offers a refreshing and light alternative to traditional protein drinks. It can be effortlessly mixed with water, providing a convenient way to enjoy protein-rich beverages. Sparkletein™ is quickly gaining attraction and emerging as a new and exciting market trend.
To delve into the comprehensive range of creative and branded ingredients offered by Foregen Nutra, Foregen would like to invite everyone to work together towards a brighter future.
Contact:
Company: Foregen Nutra
Ctiy:Nanjing
Website: https://www.foregennutra.com/
Contact Person: Ella
Email: info@foregennutra.com
Disclaimer: This article is reproduced from other media. The purpose of reprinting is to convey more information. It does not mean that this website agrees with its views and is responsible for its authenticity, and does not bear any legal responsibility. All resources on this site are collected on the Internet. The purpose of sharing is for everyone's learning and reference only. If there is copyright or intellectual property infringement, please leave us a message.